Messages scams using colored WhatsApp mode. (Ist)
Intl.Triafa.com
- After preoccupied with WannaCry, Indonesian Internet users, especially users of smartphones, again attacked by scam through the application
WhatsApp
.
The fraud was designed so as to display an attractive design and convincing, as if from
Whatsapp
that offers the use of a new color for Whatsapp application.
As usual, the access will then be given a beautiful promise which the requirement to access these new features only have to invite 10 contacts WhatsApp, or 5 groups Whatsapp conversation.
If it is done, it causes flooding scam New Colors for Whatsapp.
The impact of this scam the recipient can be mild like receiving ads Fast Cleaner application installation through Opera Mini application, rather menacingly like a smartphone app notifications in danger and directed to install applications that are advertised to very dangerous as adult ads appear with pornographic content.
Cyber ​​security Observer Alfons Tanujaya the founder of WhatsApp Vaksincom advises users not to click scam circulating and for those who are a victim, please inform associates / groups that you send to beware of this scam content.
Scam will come in WhatsApp messages from a contact you know to look like Figure 1 below:
The link provided in the scam is that by monitoring Vaksincom http://x.co/6lsCq a free link shortener provided by the service provider Go Daddy.
The purpose of the use of a short link / URL Shortener is to anticipate blocking by WhatsApp which if blocked, then the manufacturer scam just create a new permanent URL Shortener lead to fraudulent sites that have been prepared.
If the link is clicked, the link will lead directly to the site that has been prepared in advance, ie http://wp8.link/color/.
Landing sites that have been prepared. (Ist)
These sites display quite convincing, although should address Whatsapp.com and meticulous WhatsApp users should know that this site is a fake website and is usually used for the purpose of phishing (stealing passwords) or Scam (swindle victims for financial gain).
Stated that a requirement to use the new features of this Whatsapp must perform User Verification.
And how easy, is to invite 10 friends or share this information into five groups of conversation.
This is an indication of a second after the website address which is false, that is not of WhatsApp, because WhatsApp does not need to ask you to invite 10 friends or sharing into five groups just to verify WhatsApp users.
Because if you are using WhatsApp, of course, already verified automatically and does not require further verification.
The main purpose of this scam maker is financially benefit from the ad will be clicked by the victim scamini.
After the victim successfully deceived spreading false information to contacts WhatsAppnya, instead of getting a new feature of WhatsApp as promised, they instead will be bombarded with a collection of ads that will lead to the installation of the application, the threat lies that smartphones need to be upgraded, or threatened virus.
Most alarming is to see if the access to pornographic content that traced likely to come from India.
According to the experience Vaksincom, WhatsApp previous scam was also closely associated with India.
Vaksincom not recommend you to install any application that is advertised by this scam.
We recommend that you avoid all apps being advertised in this way, because it shows that the application development companies indirectly commit misconduct by supporting the scam and pornographic content in promoting its products.
As for some of the ads that will appear is as follows: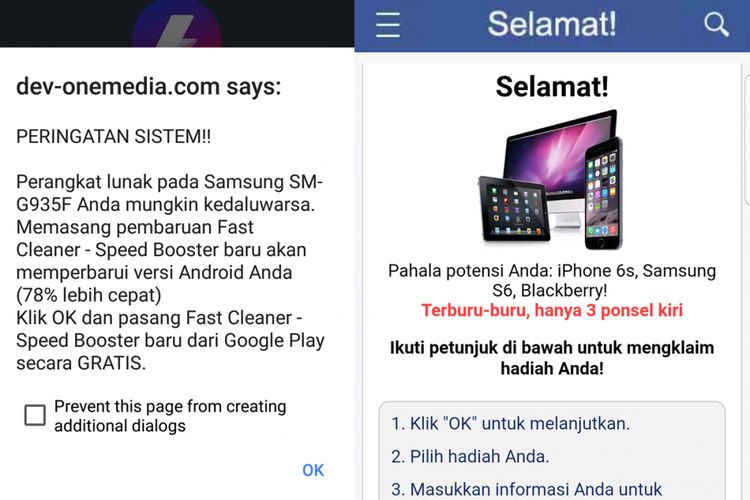 Victims in iming2i iPhone 7, BB or Samsung Galaxy S7 whereas if the click will be asked to fill out a survey that is not endless and promised buntut2nya will get a "chance" to win the lottery.
If indeed you want to try to please try and shara your experience. (Ist)
* Alfons Tanujaya is a former banker who started his career in the IT world since 1998, in 2000 established PT.
Vaksincom and actively dedicate time to provide information and education about malware and security for Indonesian IT community.